Episodes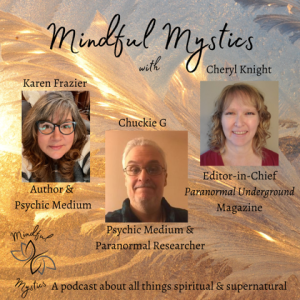 Sunday Nov 20, 2022
Sunday Nov 20, 2022
From Paranormal Underground Radio
Episode Date: 11.20.2022
Hosts: Cheryl Knight-Wilson and Chuckie G.
Guest: Ilona Selke
Show Notes:
Join Cheryl and Chuckie G as they talk with modern-day mystic Ilona Selke about communicating with the Universe, becoming the master of your own destiny, alien intentions, and more!
As a young child, Ilona Selke realized that the Universe responds to human thoughts. She soon proved through her own experimentation that she could communicate with the Universe — and, in fact, anyone can.
Ilona dedicated her adult life to metaphysical explora­tion and spent about four decades researching, experiment­ing, writing, and teaching about human potential, manifesta­tion, quantum dimensions, and "living from vision." As a modern-day mystic, Ilona helps others discover the power of their consciousness to create a successful life.
She is the author of Dream Big — The Universe Is Listening: Creating a Better Life for Yourself and the Planet and Wisdom of the Dolphins; an international seminar leader; an expert in philosophy and comparative religions; and a consciousness and radionics researcher.
Check out:
https://www.ilonaselke.online/p/living-from-vision
https://www.shambala-academy.com/