Episodes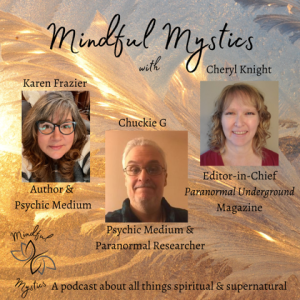 Saturday Oct 28, 2023
Saturday Oct 28, 2023
Brought to you by Paranormal Underground Radio
Episode Date: 10.28.2023
Hosts: Karen Frazier, Chuckie G, and Cheryl Knight-Wilson
Show Notes:
In this episode of Mindful Mystics, Karen, Cheryl and Chuckie G talk with Karen Anderson, pet loss specialist, afterlife expert, animal communicator, coach, and award-winning author. Karen shares insights from her years as an animal communicator so we can understand how the love we share with our pets carries on forever. 
Karen's life journey has taken her from intuitive child to law enforcement officer and eventually to her true calling as a professional animal communicator, medium, and coach. Raised in a family that didn't understand her unique abilities, Karen fought through life's challenges, including abusive relationships and a crushing bankruptcy, before finding her true purpose. A transformative encounter with a dove helped her realize that her gifts were not only real, but crucial to her life's work.
Karen has made it her mission to help others unlock their spiritual gifts and overcome personal struggles. After years in law enforcement, where her intuitive gifts played a crucial role in her work, she now helps her clients — both two-legged and four-legged — navigate life's complexities.
The founder of the Painted Rain Ranch Animal Sanctuary, Karen has also become a #1 bestselling and multiple award-winning author. Her book, "The Amazing Afterlife of Animals," aims to help people cope with the grief of losing a pet. And her newest book, "The Pet I Can't Forget: Finding Hope and Healing With Signs From the Afterlife," features real-life stories from pet parents who have received healing messages from the afterlife.
Check out:
Karen Anderson's Website: https://www.animalcommunicating.com/
Karen's non-profit animal shelter Painted Rain Ranch: https://paintedrainranch.com/  
Karen's social media:
https://twitter.com/TalksToPets
https://www.facebook.com/KarenAndersonCoachAuthor/
https://www.linkedin.com/in/karen-a-anderson-b395aa5/
Also, find our hosts here:
Paranormal Underground magazine: https://paranormalunderground.net/
Author and psychic medium Karen Frazier: https://www.authorkarenfrazier.com/#/
Paranormal Investigator and psychic medium Chuckie G: https://chuckieg.net/