Episodes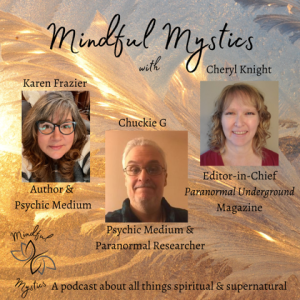 Wednesday Jun 28, 2023
Wednesday Jun 28, 2023
Brought to you by Paranormal Underground Radio
Episode Date: 6.28.2023
Hosts: Karen Frazier, Chuckie G, and Cheryl Knight-Wilson
Guest: David Oman
Show Notes:
In this episode of Mindful Mystics, we talk with David Oman, owner of the infamous "haunted house on Ceilo Drive."
In 1999, David started helping his father build the house on Cielo Drive, next to the infamous Sharon Tate Murders (aka the Manson Murders). After two years of living in the house, Oman created a story based upon his experiences, called "House at the End of the Drive." David has also written the book "Ghosts of Cielo Drive: The Afterlife of Sharon Tate and the Spirits of the Oman House."
Every room has spirits and visitors ... and some have said that it's almost like a giant spirit party. The Oman house has been on featured on Ghost Hunters, Dead Famous Live, Searching for Satan, My Ghost Story, Haunted History, Ghost Adventures, and Paranormal Witness. David and the Oman House have also been featured on Larry King Live, EXTRA, and TMZ and CBS News LA.
Check out:
You can buy David's book here: https://ghostsofcielodrive.com/
Visit David's YouTube for video evidence: https://www.youtube.com/@davidoman
Find David on social media: https://www.instagram.com/TheOmanHouse/ and https://twitter.com/The_Oman1